Valles World
You will see Valle for Meet and Greet, Meet and ski, Valle Parade and for Sing and Dance. Keep your eyes open Valle is always out somewhere in the ski area.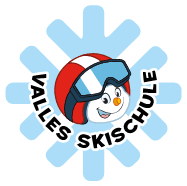 Valle and the magic snow
One winter's morning long, long ago fell the first snow. Large snowflakes flooted slowly to the ground. Two friends, Line and Love rubbed the sleep from their eyes and gave a cheer. They were going to build the world's biggest and best snowman. Every day their snowman got bigger and bigger, rounder and rounder. They played around him all winter long. They called him Valle and knitted him a red scarf to go around his neck. But then came spring. Valle began to melt! The children hugged and hugged their beloved snowman. Their tears mixed with the melting snow. Winter was over...
It was then that the miracle happened. Line and Love's love filled hugs created snow magic. Valle began to move his big hands and gently stroked the children's heads. Our two friends looked straight into the snowman's warm eyes. He had come to life! Since that day, Valle no longer melts. The children's love made him from magical snow, cuddling snow.
Valles App
Have a look into Valles World and download the App!
App Valles Welt für iPhone/iPad herunterladen »
App Valles Welt für Android herunterladen »
Valles Musik